Piano Masterclass Chair
Dr. Janet Favreau
(310) 357-4693 • Email
String Masterclass Chair
Dr. Cheryl Scheidemantle
(626) 585-8894 • Email
---
2024
Piano, Cello, Violin Masterclasses
January 21, 2024
Murphy Recital Hall
Loyola Marymount University
Piano Masterclass with Fabio Bidini • 10:00am–12:00pm
Cello Masterclass with Roger Lebow • 12:30pm–2:00pm
Violin Masterclass with Moni Simeonov • 2:00pm–3:30pm
Participant application information:
Please include the following information:
Name of student
Age of student
Email address of student and/or parent if under 18
Name of teacher
Teacher's email address
Full title and movement of piece to be performed
Exact timing of piece to be performed
The deadline to apply to perform is December 1, 2023.
After the 12/1 deadline, we will respond to you whether you have been selected to perform or not.
If you have been selected, you will receive a link to pay the $50 participant fee.
We invite you to attend the Masterclasses as an auditor.
Costs for pre-registration are $20 for adults and $10 for students (with student I.D.)
and includes admission to all masterclasses.
Faculty, staff, and students of LMU may attend free and do not need to pre-register.
Adults paying at the door will be charged $30.
---
About the Masterclass Teachers
Fabio Bidini • Piano
Italian pianist Fabio Bidini is one of his generation's top-flight pianists. His appearances have included performances with London Symphony Orchestra at The Barbican, Philharmonia Orchestra of London at Royal Festival Hall, San Francisco Symphony, New World Symphony, Dallas Symphony, St. Louis Symphony, Budapest Festival Orchestra, Forth Worth Symphony, Philharmonia Orchestra Prague at the Rudolphinum, and Hungarian National Philharmonic Orchestra at Liszt Academy Hall. He has collaborated with conductors including Michael Tilson Thomas, Carlos Prieto, Max Valdes, Dimitry Sitkovetsky, Ivan Fisher, Jesus Lopez Cobos, JoAnn Falletta, Zoltan Kocsis, Michael Christie, and Gianandrea Noseda.
In the 2023–24 season, Fabio Bidini returns to Houston and Phoenix joining the Modigliani Quartet in the Korngold Piano Quintet. Bidini performs in recital in Great Barrington, Massachusetts. Orchestral appearances include Puerto Rico Symphony, Fort Wayne Philharmonic, and his return to Buffalo Philharmonic Orchestra, where he has appeared many times.
Fabio Bidini is in great demand as a chamber music partner. He is the pianist of the highly acclaimed ensemble, Los Angeles Piano Trio and has enjoyed artistic collaboration with many ensembles and artists including Trio Solisti, Modigliani Quartet, American String Quartet, Janacek Quartet, Brodsky Quartet, Szymanowski Quartet, Zoltan Kocsis, Alexis Pia Gerlach, Maria Bachmann, Eva Urbanova, Nina Kotova, Dimitri Ashkenazy, and Sabrina-Vivian Höpcker.
Mr. Bidini has repeatedly performed at the prestigious festivals of Europe, including the Tuscan Sun Festival Cortona/Napa, Festival Radio France Montpellier Languedoc-Roussillon, La Roque d'Anthéron International Piano Festival, Stern Grove Festival, Arturo Benedetti Michelangeli International Piano Festival, Festival dei due Mondi and most recently, Grant Park Festival.
Fabio Bidini began his piano studies at the age of five. He graduated magna cum laude from Cecilia Conservatory in Rome and studied composition at Florence Conservatory. He has been awarded first prize in eleven of Italy's most prestigious national piano competitions and has been the recipient of the top prizes awarded in eight international competitions – Terni, Köln, Busoni 1988 and 1992, Pretoria, Marsala, London, and the Van Cliburn Fort Worth. He made his North American debut in 1993 with Atlanta Symphony Orchestra.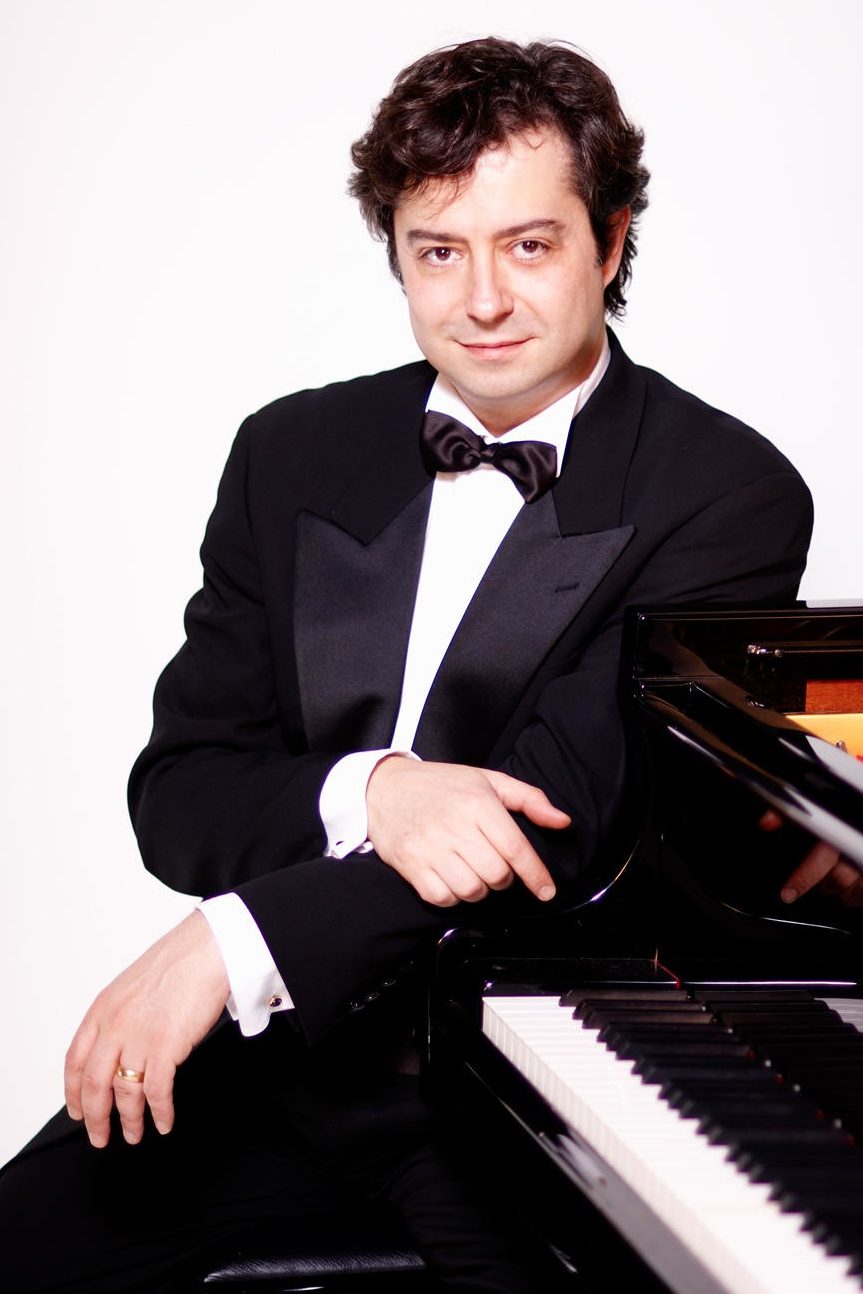 In 2015 Fabio Bidini became the first recipient of the Carol Grigor Piano Chair – a new position enabled by a $5,000,000 endowment gift from the Colburn School's board chairwoman Carol Colburn Grigor in Los Angeles. Mr. Bidini has been Professor of Piano at the Hochschule für Musik Hanns Eisler, in Berlin, one of Europe's premiere music conservatories. He also serves as an Artist-in-Residence at Hochschule für Musik und Tanz in Köln.
Fabio Bidini's discography comprises thirteen CDs recorded under the labels BMG, Classichord, Musikstrasse, EPR and True Sounds. He is a Steinway artist.

---
Roger Lebow • Cello
Cellist Roger Lebow's concert life—whether solo and chamber performances, or with LA Opera—embraces repertoire from the 16th century to pieces whose ink would still be wet, if composers still used pens. This has led him to commission, premiere, and otherwise champion numerous cello works, and to help form the venerable LA new music collective XTET in 1986. Lebow was the founding cellist of the Armadillo String Quartet and the Clarion Trio, and he spent several waterlogged years in Seattle with the Philadelphia String Quartet. His chamber music recordings appear on the Delos, New World, Water Lily Acoustics, Spectral Harmonies, and Albany labels.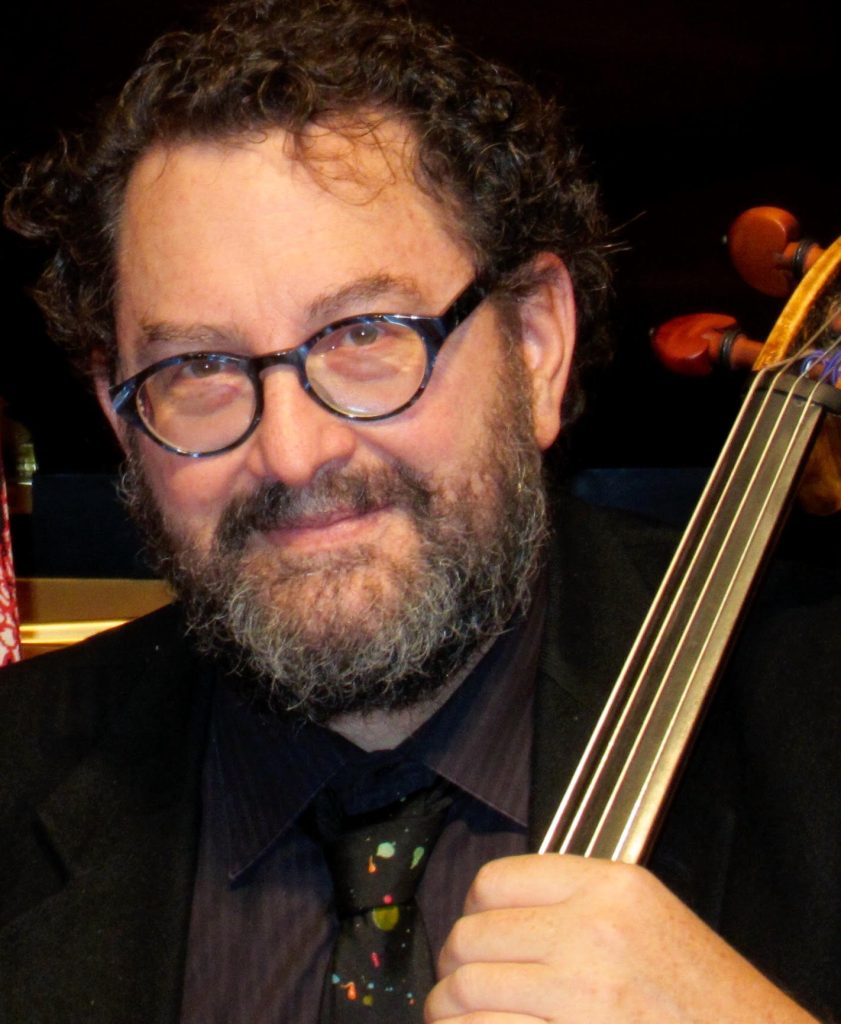 Mr. Lebow was the cello teacher at Pomona College for 23 years, taught at Chapman University and Oc­cidental College, and was on the guest faculty at CalArts, UC Irvine, and UC Bjoerling. For a decade, he was the principal cellist of the late, lamented LA Mozart Orchestra; he has also appeared as soloist and chamber artist at the Oregon Bach Festival and Cabrillo Music Festival. A former mainstay of the LA studio scene, you enjoyed him on the soundtracks of hundreds of your favorite movies, and on albums by such period acts as ELO, Kim Carnes, and Alanis Morissette.
He's still performing in his dotage, most often with his geriatric early-music group Los Jubilados (The Retired Guys). 
---
Moni Simeonov • Violin
A native of Bulgaria, Moni Simeonov began playing the violin at age 5, and ten years later, came to the United States on a full scholarship to the Idyllwild Arts Academy. He performs with the Los Angeles Philharmonic, Los Angeles Chamber Orchestra and Opera, Ensemble San Francisco, and until recently, was the Concertmaster for the Sacramento Philharmonic. He has also served as a guest concertmaster with Reno Philharmonic, Louisiana Philharmonic and the Pacific Symphony. His doctoral studies included minor fields in Viola Performance, Schenkerian Analysis, Japanese Language, as well as an emphasis on the interpretation of the Balkan folk music.
On tour and in Los Angeles, Mr. Simeonov dedicates considerable time and energy to community engagement work and to musical activities and presentations for young people. Moni has performed and coached alongside Midori for her Orchestra Residencies Program American and International tours. Until 2014, he served as a director for the program. Outreach activities have taken him to places as diverse as homeless shelters in Peru and at-risk centers in Tennessee, to Syrian refugee camps in Lebanon, and hospitals for the terminally ill in Sri Lanka.
Moni's summer teaching includes engagements with the Interlochen Summer Festival, the Singapore Violin Festival, and the Atlantic Music Festival. Moni is also the founder of Bulgaria's first chamber music academy – "Quartet Intensive" in Sofia.
Moni has concertized and taught around the United States, South America, Europe, Asia, and the Middle East. His recordings have been archived by PBS, NPR, KUSC, Bulgarian National Radio and TV, as well as Japanese Broadcasting Company – NHK.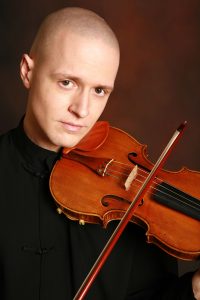 Moni received his BM and PC from the Eastman School of Music under Zvi Zeitlin, his MM and AD from Yale University with Ani Kavafian, and his GC and DMA from USC's Thornton School of Music where he studied with Midori.
Moni served as Adjunct Instructor at USC's Thornton School of Music until 2014. That year, he was appointed Director of String Studies and Violin Professor with the Bob Cole Conservatory of Music at California State University, Long Beach. Moni is also the creator of zenviolin.com.