About the Festival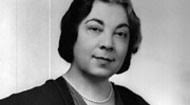 Established in 1961 by Madame Alice Ehlers of the University of Southern California, the Southern California Junior Bach Festival was founded to stimulate interest in and appreciation for the music of Johann Sebastian Bach.
Through master classes, workshops, and seminars by well-known Bach scholars, and with the annual presentation of students in SCJBF programs, the organization promotes high standards in the performance and interpretation of the music of J. S. Bach.
Noted Baroque scholars and music teachers Evelyn Hood, Andrew Clemmons, Yvonne Gordon, and Mary Evelyn Golz provided visionary leadership during the critical early years of SCJBF.  Mary Evelyn Golz, Andrew Clemmons, and Evelyn Hood, a student of Madame Ehlers, all served as General Chairmen. Their dedication provided inspiration and support for the growth of the fledgling organization. The highly-regarded Complete Works Audition, which provides opportunities for the most accomplished students to challenge themselves, was initiated by Yvonne Gordon and Andrew Clemmons in 1977.
During his nine-year tenure as General Chair, Carl Matthes led the Festival's effort to incorporate and also to expand its offerings for string, wind, and voice musicians. Under his leadership, the organization broadened a formal collaboration begun by Evelyn Hood with the distinguished Los Angeles Bach Festival.
Serving twelve years as General Chair, Sue Scofield encouraged the expansion of the organ program. Her strong stewardship established a firm financial foundation for the organization's continued success.
In 2006, Dr. Mark Sullivan took over the leadership and served for 12 years as General Chair. He presided over the design and implementation of the first SCJBF website, which included more efficient online student registration for all branch and regional festivals.
Pamela Worcester is the current General Chair, serving since 2018. She has worked tirelessly to lead the organization through the recent ups and downs brought on by the Covid-19 pandemic. She hopes to bring new insights to enhance the organization's programs.
Today, the Southern California Junior Bach Festival involves approximately 2500 students from 34 branches of the Music Teachers' Association of California.
---